Recipe by: Chantal
Ingredients:
- 9 graham crackers, crushed
- 3 tbsp butter, melted
- 4 (8 ounce) packages cream cheese
- 1 1/2 cups white sugar
- 3/4 cup milk
- 4 eggs
- 1 cup sour cream
- 1 tbsp vanilla extract
- 1/4 cup all-purpose flour
- zest of an orange and lemon
- Preheat oven to 350º.
In a medium bowl, mix graham cracker crumbs with melted butter. Then press into bottom of spring form pan.
Once you have rinsed the medium bowl, mix sour cream, vanilla, and flower until smooth.
In a larger bowl, mix cream cheese and sugar, mixing just enough to incorporate.
Mix the remaining ingredients one at a time until they are incorporated.
Before adding the orange and lemon zest mix in sour cream, vanilla and flour mixture.
Pour filling into prepared crust. Bake in preheated oven for 1 hour. Turn the oven off, and let cake cool in oven with the door closed for 5 to 6 hour; this prevents cracking. Cill in refrigerator until serving.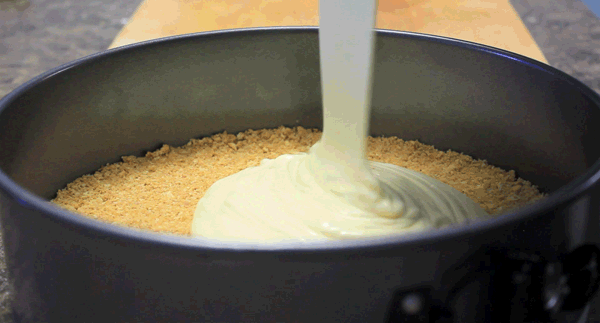 Strawberry Sauce by: Chef John
Ingredients:
1 pint fresh strawberries, rinsed, green tops removed
1/4 cup sugar
1/2 tsp balsamic vinegar
2 tbsp water
1 tsp cornstarch dissolved into 2 tbsp water
Once strawberries, sugar, balsamic vinegar and water have been added bring to a boil, then cover turn heat to medium low and cook for 15 minutes.
In the mean time mix cornstarch and 2 tbsp of water; this will thicken the sauce later. Once added cook for 2-3 minutes and turn off the heat.
Add strawberries to a blender to purée. Your sauce is ready. Enjoy!