Independence Day also know as the Fourth of July commemorates our Declaration of Independence on July 4, 1776, declaring independence from Great Britain.
Though Independence Day is associated with hot dogs and hamburgers,  make sure you have your vegetables. Grilled vegetables and fruit are a great way to amp up your 4th of July barbecue.
Classic Burgers & Fresh Corn on the Cob.
Ingredients: 
Beef: (eyeballed the measurements)
1 1/2lb ground beef
salt and pepper
cyan pepper
smoked paprika
worcestershire sauce
Remainder:
mushrooms (sliced)
1 onion (sliced)
3-4 bacon slices
corn on the cob
romaine lettuce
tomatoes (sliced)
american yellow cheese
sesame seed burger buns
Mix together ground beef, salt, pepper, cyan pepper, smoked paprika and Worcestershire sauce until your satisfied. Divide and roll into meat balls, this way you can see if each burger will be roughly the same size.
Once you have prepared the burgers store them in the fridge to firm up. Then slice mushrooms and onions and store in containers. 
Fire up the grill, once your charcoal has turned gray your ready. I started with the corn on the cob, mushrooms and onions. *If your corn is fresh is should be slightly moist, no need to soak.Place mushrooms and onions in a small metal pan with cover, *I've tried grilling with foil but it gets a nasty metal taste. 
Once corn is hot and steamy start your chilled burgers and once burgers are done add your cheese.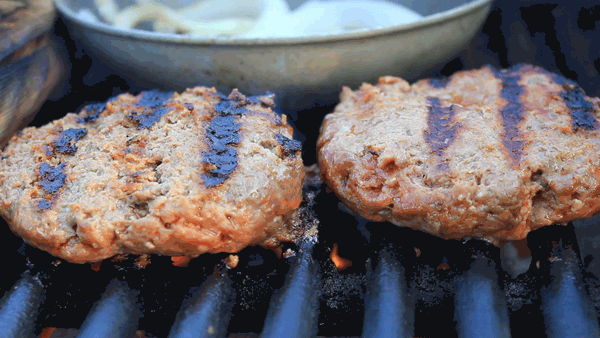 *Brush your burger buns with olive oil and toast them so they won't get soggy when adding tomatoes and condiments.
Slice tomatoes and romaine lettuce. Build your classic burger and peal your fresh corn on the cob, no butter needed. Enjoy!